Ongoing Exhibit: Outdoor Display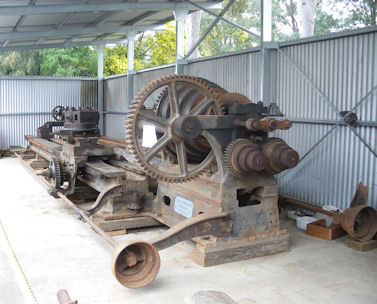 The Abernethy Stonemason's Lathe is a rare surviving piece of Victorian-era machinery, possibly unique outside Europe. It now resides in a purpose-built shed next to the Moruya Museum. This is a story of a unique example of 19th century technology, and a community that fought to preserve it.
The huge twin bed lathe was made in 1881 at Aberdeen by J. Abernethy and Co. and then brought to Sydney. It was used to turn Moruya granite into beautiful polished columns for some of Sydneys most majestic buildings – the Sydney GPO, The Queen Victoria Building and for the granite pedestal for the Queen Victoria statue in Queen's Square, Sydney. It continued to be used for its original specialised purpose for nearly a century.
It is not known for certain whether the lathe was ever situated near the main source of granite at Moruya, or whether it was always located in Sydney. But it certainly was used to turn Moruya granite. The lathe was last used at Loveridge and Hudson's yard in Sydney in the 1960s and then donated in the late 1970s to the Lachlan Vintage Village Heritage Theme park at Forbes, NSW.
In 1987, it was bought by the NSW Heritage Council and then handed over to Eurobodalla Shire in 2010. The Moruya Antique Tractor and Machinery Association (MATAMA) relocated the lathe from Forbes to its current site in Moruya, and painstakingly restored it to its former glory.
Read more about the Stonemason's Lathe:
Read more about Moruya Granite Quarries:
Moruya Granite Quarries – Significant Engineering Heritage Sites

Listed 2017 on the Engineering Heritage Register